Welcome to the Coronary Artery Risk Detection In Appalachian Communities (CARDIAC) Project Research Program. Our mission is to support outstanding clinical and community-based research based on CARDIAC screening outcomes and related research programs that improve the current understanding for the causes and impact of obesity, metabolic disease, and associated risk factors among children and adolescents.
The CARDIAC Research Group is multi-disciplinary and experienced in a variety of research designs, methodological approaches, and analytical plans. Over the next three years, the CARDIAC Research Group strives to:
Produce evidence-based, peer reviewed scholarly work examining childhood obesity and associated conditions measured by the CARDIAC surveillance team.
Provide feedback on evidence-based surveillance and intervention strategies promoting advancement of procedures and analytical strategies; and
identify and evaluate individual, familial, and environmental factors associated with childhood obesity, metabolic disease, and associated health concerns.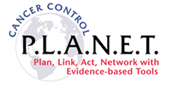 CARDIAC Kinder Program
The CARDIAC Kinder Program was recently chosen as a National Cancer Institute's Research-Tested Intervention Programs (RTIPs) of the Cancer Control P.L.A.N.E.T. In order to receive this designation, the CARDIAC Kinder Program evaluation and materials were reviewed and evaluated based on four criteria:
Intervention outcome finding(s) must be published in a peer-reviewed journal;
The study must have produced one or more positive behavioral and/or psychosocial outcomes (p< .05) among individuals, communities, or populations;
Evidence of outcomes must be demonstrated in at least one study, using an experimental or quasi-experimental design; and
The intervention must have messages, materials, and/or other components that can be used in a community or clinical setting
For more information about the NCI RTIP program, please visit: http://rtips.cancer.gov/rtips/index.do. Currently in development, this site will provide more details about the evaluation of the CARDIAC Kinder program.CARDIAC Kinder materials are available upon request. For more information, please review the materials listed below. If you have any questions, please contact Dr. Lesley Cottrell at 304-293-1149 or by email at lcottrell@hsc.wvu.edu.
Materials:
Materials are listed individually below, or you can download all materials in a zip file by clicking here.
Basic Dietary Information
Steppin' Out Pedometer Log
Pedometer Packet for Parents
Teacher Handout
Reducing Calories
Kinder & Too Star Chart
Kinder Physical Activity Pamphlet
BMI Educational Tool

Pregnancy and birth factors associated with obesity and other cardiovascular risks later in childhood
There is evidence that factors during pregnancy and fetal life influence long-term outcomes in adults such as coronary artery disease, hypertension, and stroke. We are exploring some of those outcomes in the intermediate age groups that we have available in the CARDIAC database. We presently have 6000 matched subjects with their birth data and the information on them in the 5th grade and are looking at these relationships. Participating faculty include: Martha Mullett MD, William Neal MD, Ellen Demerath, PhD, Lesley Cottrell PhD, and Christa Ice PhD.

Genetic predispositions to cardiovascular disease
The Familial Combined Hyperlipidemia (FCH) Project is a collaboration between WVU CARDIAC Project and Biochemical Ggenetics at Marshall University under the auspices of West Virginia Idea Networks of Biomedical Research Excellence (WV-INBRE). The CARDIAC Project identifies children probands who fulfill the phenotype of FCH and refer as many family members as possible for detailed lipoprotein analysis (VAP 60), and genotyping of the entire pedigree. An article was recently published in Pediatrics from this project.
Participating faculty include: William Neal, MD, Susan Ritchie MPH, PA-C, Don Primerano PhD, AliaRai, MD.

Childhood obesity and vulnerability to other health issues
Childhood obesity is associated with a variety of health issues. CARDIAC research has demonstrated an association between childhood obesity (particularly morbid obesity) and increased risk for metabolic syndrome, dyslipidemia, insulin resistance, and asthma. Work from this group was recently presented at the American Thoracic Society annual meeting.
http://www.informaworld.com/smpp/content~content=a906490248~db=all~order=author
Ice, C. L., Cottrell, L., & Neal, W. (2009). The use of the body-mass index as a surrogate measure of cardiovascular risk factor clustering in fifth-grade West Virginia children: Results from the Coronary Artery Risk Detection in Appalachian Communities project. International Journal of Pediatric Obesity:4; 316-324.
Participating faculty include: William Neal MD, Christa Ice PhD, Emily Murphy PhD, Susie Ritchie MPH, PA-C, Lesley Cottrell PhD, Giovanni Piedimonte, MD, and Valerie Minor MSN.

Implications of childhood morbid obesity
CARDIAC researchers are currently examining differences in cardiovascular risk factors based on sensitive variations among children who are morbidly obese (BMI > 99th percentile). This research is designed to identify specific differences within this BMI division to identify methodological and clinical implications for practice. Examples of this work were recently presented published in the International Journal of Pediatric Obesity.
http://www.wjpch.com/Currente.asp?Pid=280&type_i=1&Nid= 282&artcile_id=305#305
Ice, C. L., Cottrell, L., Murphy, E., Minor, V. E., & Neal, W. (2009). Metabolic syndrome in 5th grade children with acanthosis nigricans: Results from the Coronary Artery Risk Detection in Appalachian Communities project. World Journal of Pediatrics. 5, 23-30.
Participating faculty include: Emily Murphy PhD, Christa Ice PhD, William Neal MD, Susie Ritchie MPH, PA-C, Valerie Minor MSN, Eloise Elliott, PhD, and Kristin McCartney RD

Economic costs and benefits of health programs such as CARDIAC
Cost-benefits analysis of the programs will address whether CARDIAC offers net benefits as an individual program and compared to alternative child screening programs. Traditional cost benefit analysis establishes total net social benefit. This analysis will be completed for CARDIAC establishing whether direct (program staff salaries) and indirect (opportunity costs of student's time) costs are offset by direct (better health or satisfaction) and indirect (enhanced academic achievement) benefits. In addition, the success of CARDIAC relies on the active participation of students and the willingness of schools to participate. Further, the cost-benefit analysis will be conducted at the student-level to assess whether incentives are aligned with individual participation and at the school-level to determine whether school inputs are offset by benefits accruing to the school. This work was is forthcoming in the Public Finance Review and accepted for publication at the annual meeting of the American Economic Association.
Gurley-Calvez, T. & Higginbotham, A. (2010). Childhood Obesity, Academic Achievement, and School Expenditures. Public Finance Review. 38(5):619-646.
Gurley-Calvez, T. & Higginbotham, A. (2010). Obesity and Academic Achievement. Accepted for presentation at the American Economic Association Annual Meeting, January 7-9, 2011, Denver, CO.
Participating faculty include: Tami Calvez, Amy Higginbothom, Lesley Cottrell, PhD, Christa Ice, PhD, Valerie Minor, RN, and William Neal, MD.

Childhood obesity, physical fitness, and academic performance
During the 2005-2006 school year, researchers affiliated with the Wood County Schools L.I.F.E. project examined relationships between BMI, FITNESSGRAM, academic achievement, and children's meal enrollment (free/reduced lunch). They learned:
Children's meal program enrollment significantly affected their academic performance on all 4 academic achievement tests. Students with free/reduced lunch (proxy for SES) score lower on academic achievement tests.
Children in the healthy zone for aerobic fitness (miler run, pacer) score higher on all 4 academic achievement tests – mathematics, reading/language arts, science, social studies, even when controlled for SES.
During the 2007-2008 school year, the database was expanded to include grades 6, 7, and 8. As a result, associations between academic performance and fitness can be determined across grades K-8 at one time as well as longitudinally (e.g. 7th grade students now as well as those 7th grade students longitudinally with their data from previous years.) Results:
Confirm the association between aerobic fitness and academic performance.
Suggest that students in the healthy zone for aerobic fitness in both 5th and again in 7th grade scored best in academic achievement tests. Students not in the healthy fitness zone at both points scored the lowest of all 4 groups (See below.)


Next steps include investigation of the following questions: 1) Is there a causal link between fitness/health and academic achievement; 2) How big is this effect in terms of academic performance? And 3) Does improving fitness/health measures have significant economic impacts? Participating faculty include: Karen Northrup RN, MSN, Richard Wittberg PhD, Lesley Cottrell PhD.
Participating faculty include: Karen Northrup RN, MSN, Richard Wittberg PhD, Lesley Cottrell PhD.


Highlighted Poster Presentations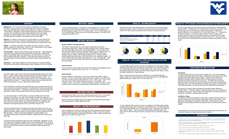 View PDF
Historical Poster Presentations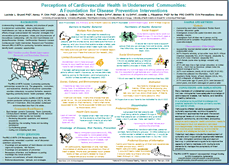 View PDF

The mission of the Prevention Research Centers' Cardiovascular Health Intervention Research and Translation Network (CHIRTN) was to contribute to cardiovascular health for all people through the development and implementation of a coordinated applied research and translation agenda, and through the conduct of prevention research and translation activities that promote cardiovascular health.
One recently completed project was a problem-solving barriers to healthful lifestyle intervention. In 2009, focus groups were conducted to better understand what busy adults expect from a healthy lifestyles program. A subsequent intervention was offered with 28 individuals completing the program. Currently, data are being assessed for primary outcomes (feasibility, acceptability) and secondary outcomes (problem solving skills, perceived stress, physical activity, nutrition, and weight).
Publications from other CHIRTN projects are listed below.
Bryant LL, Chin NP, Cottrell LA, Duckles JM, Fernandez ID, Garces DM et al. Perceptions of cardiovascular health in underserved communities. Prev Chronic Dis. 7:A30. PMID:20158958.
Farris RP, Pearson R, Fogg T, Bryant L, Peters K, Keyserling T, et al. Building capacity for heart disease and stroke prevention research: The cardiovascular health intervention research and translation network. Health Promot Pract.2008; 9:220-7. PMID: 18560014.
Sheridan SL, Viera AJ, Krantz MJ, Ice CL, Steinman LE, Peters KE, Kopin LA, Lungelow D. Cardiovascular Health Intervention Research and Translation Network Work Group on Global Coronary Heart Disease Risk. The effect of giving global coronary risk information to adults: A systemic review. Archives of Int Med. 2010; 170 (3): 230-9. PMID: 20142567.

Melissa Ahern
Dr. Ahern is an Associate Professor in the Department of Healthy Policy and Administration at Washington State University. She received her Master's and Doctoral Degree from Florida State University. Her research interests include managed care efficiency and effectiveness and the impact of communities on health.
Tami Calvez
Dr. Gurley-Calvez is a Research Assistant Professor and Director of Research for the Bureau of Business and Economics Research at West Virginia University. She received her Master's and Doctoral degrees in Economics from the University of Tennessee. She specializes in the behavioral effects of taxation, the economics of entrepreneurship, and policy research including Medicaid policy redesign and the effects of welfare policy on crime.
Eloise Elliott
Dr. Elliott is a Professor of Physical Education in the Department of Human Performance and Division of Education and Human Performance at Concord University. She received her Master's Degree in Physical Education and Safety Education from Salen-Teikyo University and Doctoral Degree from Virginia Polytechnic Institute and State University. Her interests include physical activity intervention program design and web-based applications for health programming.
Amy Goodman
Amy Goodman is a degree candidate in the Career Master of Public Health program at Emory University in Atlanta. Amy's work experience includes professional skills development consulting, instructional design, and technology training for corporate clients. Amy's public health research interests include social and environmental determinants of childhood obesity and the design of preventive interventions for families and communities.
Amy Higginbotham
Ms. Higginbotham is an Economist and Research Associate in the Bureau of Business and Economics Research at West Virginia University. She received her Master's Degree in Economics and is currently completing her Doctoral degree from West Virginia University. Ms. Higginbotham specializes in economic development research. She has conducted economic impact studies for the state and region. She also manages the ACCRA Cost of Living survey for Morgantown.
Michael Hendryx
Dr. Michael Hendryx is an Associate Professor in the Department of Community Medicine, West Virginia University. He is also the Director of the federally-funded West Virginia Rural Health Research Center. Michael earned his PhD in Psychology from Northwestern University in 1986, and completed a post-doctoral fellowship in Methodology at the University of Chicago. He previously served on the faculty at the University of Iowa, and at Washington State University. His research interests focus on public health disparities, especially as they relate to coal mining in Appalachia. He has published over 85 peer reviewed articles and book chapters. Michael teaches the Health Policy course in the Master of Public Health program.
Christa Ice
Dr. Ice is a Research Assistant Professor in the Department of Pediatrics at West Virginia University. She obtained her Doctoral Degree in Developmental and Quantitative Psychology from Vanderbilt University. Her research interests include parenting processes, and home schooling.
Janie Leary
Ms. Janie Leary moved to West Virginia in 2007 to pursue a PhD in Public Health Sciences at WVU. Originally from Georgia, Janie earned her Bachelor's degree in Social Work at Georgia State University and her Master's degree in Public Health at Armstrong Atlantic State University. Janie has worked as a grants manager and project coordinator at various universities in Georgia and Louisiana. She currently works with the CARDIAC Project, Research Division as a Graduate Research Assistant while obtaining her doctoral degree. Janie has worked on several projects including the CHIRTN pilot study, K25 survey project, and a Community Needs Assessment with the WVU PRC. Her research interests include childcare community health promotion, family interaction and health promotion, and child physical activity. Her dissertation research focuses on parental influences of young children's (ages 7-9) physical activity.
Kristin McCartney
Kristin McCartney is a registered dietitian. She completed her undergraduate degree in Dietetics at Marshall University and internship at UPMC Shadyside Hospital in Pittsburgh, PA. Since completing her internship, she has worked in clinical and outpatient settings, primarily dealing with adult weight management. Since joining the CARDIAC Project, she has become certified in Child and Adolescent Weight Management. In her work with adults struggling with obesity, she found many failed to meet the minimum recommendations for vegetable intake. This has lead to a special interest in the role of vegetable intake in the prevention and treatment of obesity in adults and children. Due to the preliminary results that show gardening can positively impact preferences and consumption of vegetables in children, many of her recent efforts have been aimed at initiating community and school garden programs in West Virginia. Kristin also works closely with schools in developing and implementing wellness programs. She serves as the nutrition co-chair of Action for Healthy Kids.
Valerie Minor
Mrs. Valerie Minor is a R.N. and tenured Associated Professor of Nursing at Alderson-Broaddus College. She obtained a Master's in Nursing from West Virginia University and earned a certificate as a Pediatric Nurse Associate from WVU Nursing. Her research interests include health education for professional students, and community-based teaching and research principles.
Martha Mullett
Dr. Mullett is a Professor in the Department of Pediatrics at West Virginia University. She obtained a Masters of Public Health Degree from Harvard University. Her research interests include: early correlates of cardiovascular risk factors and environmental impact on delivery and birth outcomes.
Emily Murphy
Dr. Murphy is the Director of Obesity Programs at West Virginia University Extension. By-trade she is a Pediatric Exercise Physiologist, with her research interest in childhood obesity. She helps coordinate several aspects of the CARDIAC Project, is the Co-Director of the West Virginia Games for Health Project. The WV Games for Health Project was initiated as a pilot study, that's purpose was to look at the effects of an aerobic exercise intervention, using Dance Dance Revolution (DDR), on the cardiovascular risk profiles of at-risk and overweight children throughout the state. The WV Games for Health Project has now expanded into a state-wide school intervention, which is providing DDR equipment and tracking its impact on all public schools throughout the state. She is a co-investigator on a study through the US Department of Agriculture. This project's goal is to better understand the impact of exergames on obesity prevention, including physical, psychosocial and familial effects, through valid, documented, replicable research. Project proposes research and analysis by specialists in each area. She is also the principal investigator on a grant from Special Olympics, Inc looking at the health benefits of using DDR with individuals with intellectual disabilities.
William Neal
Dr. William Neal is a Professor and the James H. Walker Endowed Chair of Pediatric Cardiology in the Department of Pediatrics at West Virginia University. He obtained his medical degree at West Virginia University and completed a cardiology fellowship at the University of Minnesota. His research interests involve community-based surveillance and intervention approaches, early correlates of cardiovascular disease, clinical intervention for children's cardiovascular risk factors, and genetic predispositions to cardiovascular disease.
Karen Northrup
Mrs. Karen Northrup, RN, MS is a school nurse for Wood County Schools and serves as coordinator and program manager of the L.I.F.E. project, a grant-funded heart-health screening and intervention program. She facilitates the data collection and database development for the relationship study addressing BMI, FITNESSGRAM, academic achievement, and other variables. Karen also serves on the Clinical Advisory Committee for the Governor's WV Healthy Lifestyle Coalition and the WV Action for Healthy Kids Team.
Giovanni Piedimonte
Dr. Giovanni Piedimonte is the Professor and Chair of the WVU Department of Pediatrics and Wyeth Research Scholar. Dr. Piedimonte completed university/collegiate training at Lyceum Maurolico in Italy in 1980, his MD at the University of Rome School of Medicine in 1986 (magna cum laude), and residency training in Pediatrics at the University of Rome. He then became a postdoctoral research associate at the Cardiovascular Research Institute (CVRI) of the University of California, San Francisco. His 3 years of research training at CVRI provided him the foundation for both basic and clinical research in the area of heart and lung diseases. After a year as a resident at UCSF, he completed two years of clinical fellowship in Pediatrics at the University of North Carolina, Chapel Hill. In 1995, he joined the University of Miami. His primary area of research is airway disease with a particular focus on asthma, specifically early life viral infections and their effect on long-term pediatric pulmonary disease. His research projects include acute airway inflammatory injury, lung injury and respiratory function, and airway remodeling.
Richard Wittberg
Dr. Richard Wittberg is the Director of the Mid-Ohio Valley Health Department in Parkersburg, West Virginia. Richardimplements a variety of public health programs throughout the seven-county region including a running program for adolescents. His research interests include aerobic fitness and physical activity correlates of academic performance, physical activity and education policy implications, and dose-response elements associated with adolescence fitness.
| top |