CARDIAC is predominately a school-based health promotion project conducted in partnership with the Department of Education. Each county superintendent of schools provides written permission for the surveillance component of CARDIAC. The Office of Healthy Schools recommended the Healthy Hearts Instructional Module for intermediate age children, subsequently adopted as CARDIAC's first intervention. The Nutrition and Physical Education programs within the Department also interact closely with CARDIAC in an attempt to enhance the environment within WV schools.

The BPH of the WV Department of Health and Human Resources is the conduit through which funding of the CARDIAC Project is derived. The Bureau is especially supportive of the high-risk individualized component of CARDIAC which focuses on genetic dyslipidemias. The BPH also serves as liaison with the U.S. Centers for Disease Control and Prevention.

Fueled by the success of CARDIAC and its statewide approach, the WV State Legislature established the Partnership for a Healthy West Virginia (formerly known as the Healthy Lifestyles Coalition) in 2005. The state is committed to addressing preventable diseases among its youngest citizens, with special focus on improved nutrition and increased exercise. Most recently, the state legislature recognized the CARDIAC Project as one of the programs that is equipped to assist with the Department of Education's 'mandate to collect BMI on a sample of students to better understand the weight status and overall health of our children in an effort to develop appropriate and effective health policies.

WVMA was initiated in 2003 by the WV State Medical Association for the sole purpose of advocating for the public health. Its first official project is development and field testing of "Physicians On The Move", in which practicing physicians enroll patients who are likely to benefit from the modest walking and dietary components of "America On The Move." WV is the third state to officially affiliate with America On The Move. CARDIAC assists with the design and implementation of West Virgina On The Move.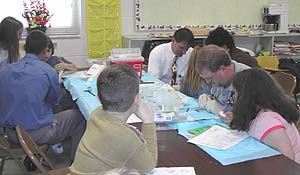 WVHA has partnered with CARDIAC to assist in the implementation of cholesterol screening for children and their parents who participate. Selected hospitals also utilize CARDIAC as a community service endeavor by sponsoring health fairs and other health promotion activities within the community.

The West Virginia Public Employees Insurance Agency offers its members a range of health promotion, prevention and disease management services. Through its work site wellness program, Pathways to Wellness, PEIA screens members for heart disease, diabetes, osteoporosis, prostate cancer, and hypertension. For those members identified with chronic conditions, PEIA now offers the following interventions: the Face to Face Diabetes Program, the Dr. Dean Ornish Program for Reversing Heart Disease, the Weight Management Program, Free and Clear's tobacco cessation program and in collaboration with West Virginia University, the GAmes for Health Project using Dance Dance Revolution. PEIA collaborates with CARDIAC by working to identify children and their family members with FH.


Every day, in every West Virginia county, the West Virginia University Extension Service helps people help themselves by providing reliable information, education, and problem-solving programs. WVU Extension is the main outreach and public service arm of West Virginia University. With an office, educators, and staff in all 55 counties, WVU Extension provides timely and relevant educational programs. WVU Extension's CARDIAC Challenge is a partnership with the statewide CARDIAC project, funded by WVU Extension's Family Nutrition Program. Educators located in the counties receive support and guidance from state subject matter specialists to carry out CARDIAC Challenge programs with families and youth groups. Limited resource families and youths are a priority audience. Extension's CARDIAC intervention helps children and parents learn about good nutrition, prepare and eat healthy meals, and exercise together in a participatory, fun setting. Delivery methods are working with families, 4-H camps, and 4-H Clubs. Participants practice specific new skills and apply health information in their everyday lives to reduce the risk of cardiovascular disease.

Mountain State BlueCross BlueShield has agreed to partner with the CARDIAC Project by offering the services of the HealthPlace on the Move bus. This community-oriented mobile health screening unit is available to Mountain State BlueCross BlueShield members and for use at community events.

The Director of CARDIAC, Dr. William Neal, a pediatric cardiologist, conducts consultative clinics for children with a strong genetic predisposition to heart disease, i.e., those with familial hypercholesterolemia and other dyslipidemias. Clinics are held monthly at each of the state's three medical schools in Morgantown (WVU), Huntington (Marshall) and Lewisburg (WV School of Osteopathic Medicine).

Both the Healthy Hearts and Take Charge online modules are run through eLearning for Kids, a global nonprofit foundation that works to provide fun and free learning on the internet for children in grades 5-12. In addition to providing the course work for kids, eLearning strives to build a community for parents and educators to become active participants in childhood education. A new initiative for classroom teachers is Active Academics® which provides practical physical activity ideas that can be integrated into the regular classroom content areas. These ideas are short 10-15 minute activities that get students "up and moving" while still engaged in the academic learning process. There are also activity ideas for energizer breaks, recess and lunchtime.
| top |