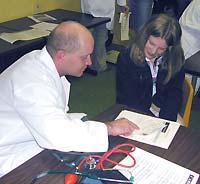 CARDIAC is a project for 5th grade students. We start by checking the child's height, weight and blood pressure and then we check the blood for cholesterol. You can have a blood test too, and all of this is FREE! Heart disease begins when we are young. We want to help you and your children live longer and healthier lives. The CARDIAC Project will help you and your family learn about heart disease and what you can do to prevent it or at least slow the process.

Read the letter from Dr. Neal. It gives all the details of the CARDIAC Project.
Complete the short family history form.
Sign the form and send it back to school with your child.
It is that easy. We will do the rest

We measure height and weight (in private).
We calculate Body Mass Index (BMI) which is a number that shows body weight adjusted for height.
We check blood pressure.
We examine the back of the neck for Acanthosis Nigricans (AN), a marker that may serve as an indicator for Type 2 diabetes.
We check cholesterol levels by obtaining approximately a teaspoon of blood from a vein in the arm using a small needle.
All CARDIAC Kids and their parents are eligible for a fasting blood test (on screening day or on a different day).
The cost of these services for a family of 3 could exceed $300 but it is yours FREE!!
| top |