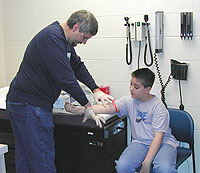 Since its inception CARDIAC has grown from a small school-based CVD surveillance project piloted in three rural WV counties to an expanded multidimensional effort involving all of the state's 55 counties. CARDIAC has two components, a school-based surveillance and intervention initiative, and a targeted individualized approach towards identifing and refering for treatment those individuals with the most severe genetic cause of death from premature CVD, familial hypercholesterolemia (FH).
School-based screenings
All 5th grade public school children in WV are eligible to participate in the CARDIAC Project. The study protocol is approved by the West Virginia University Institutional Review Board for the Protection of Human Subjects, and written permission for schools to participate is granted by each of the 55 county school superintendents.
Of 192,610 eligible children between 1998-2012, consent to participate was obtained from 81,156 (42%). Previous work has shown that children who participate in the free screening program do not significantly differ from those who do not participate in terms of their weight risks or family history. Ethnicity was determined by self report and was reflective of the high percentage of whites in the general population of West Virginia (93.4%). 52.9% of the participating children were female.
Project Measures
Parents complete items related to family and child demographics and family history of cardiovascular risk factors such as heart disease, hypertension, and diabetes on the screening/consent form. The second page of the screening/consent form is used by CARDIAC Project members to record children's height, weight, body mass index (BMI), and BMI percentile. Children's height (cm) and weight (kg) are measured using the SECA Road Rod stadiometer (78"/200 cm) and the SECA 840 Personal Digital Scale (review Procedures link for more detail). Body mass index for each child is calculated using the recommended equation by the Centers for Disease Control17: weight (kg)/ height (cm) 2 * 10,000. All weight percentile categories (e.g., normal, overweight, obese) were based on the age and gender-specific growth charts recommended by the CDC (Kuczmarski, et al. 2002). Overweight is based on BMI 85th to 94.9th percentiles; the obese categorization is based on > 95th percentile.
All CARDIAC participants are also screened for a marker of elevated risk for diabetes, Acanthosis Nigricans (AN). When present, and is a darkened pigment of skin at the base of a child's neck, particularly in the back of the neck. Trained health professionals and students screen children within the school setting.
Additional Measures for Fifth Grade Students
In addition to the standard CARDIAC measures described above, children enrolled in fifth grade classrooms throughout West Virginia also receive an option to have their blood pressure and fasting lipids (e.g., cholesterol) assessed. The trained assessment team checks a child's blood pressure during the screening procedure (see Procedures link for more detail).
A trained phlebotomist also collects a small blood draw from participating children after they have avoided food overnight (ie fasting). This blood sample is then forwarded to partnering LabCorp laboratories or a partnering hospital laboratory for analyses. Information about a child's cholesterol and triglycerides are incorporated into the final screening results. Children who have the AN marker also receive information about their insulin and glucose values.
Project Reporting
All screening information is mailed to the children's families using a comprehensive health report. Each report contains additional information on how to interpret the screening results and what additional services may be needed. Recommendations for how to maintain a healthy lifestyle such as eating healthy foods and obtaining the recommended amount of physical activity are also provided. Screening results are also confidentially shared with the school nurse and the child's primary care physician (with parent consent) to ensure that those who care for the child are informed of recent screening findings. A toll-free hotline is available for families for questions after they have received screening results.

The U.S. Center for Disease Control and Prevention has increasingly focused on the role of genomics as a pivotal part of determining health status. Family history of disease is the link between environmental exposure and genetic susceptibility. In October 2000 CDC funded the high risk individualized component of CARDIAC, Addressing Familial Hypercholesterolemia: A Model Program For States.
Familial hypercholesterolemia (FH) fulfills the World Health Organization criteria for screening and intervention because it covers a disproportionate burden of chronic disease, is easily identifiable by blood cholesterol measurement, and can be effectively treated by cholesterol lowering medication and diet. FH represents the most severe 4% of all types of dyslipidemia, causing premature death in men and women by 15-20 years. It occurs in approximately 1 in 500 in the worldwide population; but its frequency is higher in selected sub-population where 'founders mutations' have been discovered. Given that two-thirds of the original settlers of West Virginia were Scotch-Irish, among whom a specific mutation for FH has been discovered, it is intriguing to speculate that some of our excess mortality from heart disease is a result of genetic influences in addition to lifestyle habits.
As an autosomal co-dominant single gene defect FH affects half of all close relatives of individuals with the disease (probands). Once index cases are identified by multiple referral sources, including the school-based screening component of CARDIAC, pedigree analysis is performed and family members are provided the opportunity for full fasting lipid profile measurement. Selected family studies are underway to characterize LDL-receptor activity and gene analysis.
| top |